Incantesimo Design
Incantesimo Design
is the study and manufacturing of selected furnishing accessories, which are characterized by their artistic nature and created for different furniture needs. This is evidenced in every single object.
The accurate research of trends and colours, the craft work combined with the artistic synthesis of each object, determine characteristics of absolute originality.
Incantesimo Design is projected towards a constant innovation of furniture accessories, able to easily and elegantly suit any type of furniture and also to stimulate the fantasy of every single person, so that the selection of the object is determined by a favourable setting but also by a mood, a desire or a thought.
Incantesimo Design encloses to each article a profile with explanatory data about execution techniques and artistic motivation. For the clock series this profile is also valid as guarantee.
Incantesimo's design office is at your disposal for the creation of personalized objects or modifications on existing articles.
---
---
---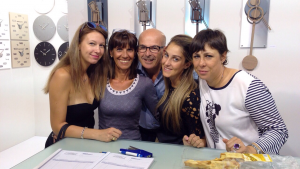 By adminEven in this autumn edition of 'HOMI Macef' we had a large number of visitors, thank you to those who came to visit us. For those who missed…
Read more
---
The new Brochure IncantesimoDesign.
This site is optimized for iPhone and iPad.
Do not hesitate to contact us for the latest catalog of items.